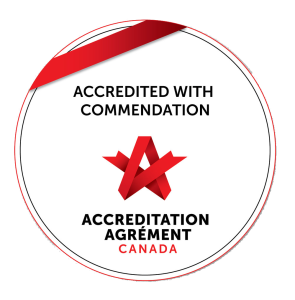 Island EMS has been nationally recognized for achieving one of the highest levels of accreditation in Canada's health care sector.
Island EMS has been Accredited with Commendation by Accreditation Canada*, following a thorough evaluation of its management, operations and paramedic services. Accreditation Canada measured Island EMS against globally-influenced and jurisdictionally-tailored standards that are used in the accreditation of more than 1,100 health care sites across Canada, including regional health authorities, hospitals and long-term care facilities. The accreditation is valid for five years and is the result of Island EMS' efforts to improve upon the level of accreditation it received in 2014.
"Being Accredited with Commendation is a remarkable achievement not just for Island EMS, but for all of the paramedics, administrative staff and management," said Erik Sande, President of Medavie Health Services. "It is much more than a stamp of approval; it is a testament to the high level of care Island EMS delivers to Islanders every day."

Through its Qmentum Accreditation Process, Accreditation Canada evaluated Island EMS against best-in-class standards established by its affiliate Health Standards Organization. External peer surveyors conducted an on-site survey to assess the organization's leadership, governance, clinical programs and services against Accreditation Canada requirements for quality and safety. Those requirements include national standards of excellence, required safety practices to reduce potential harm, and questionnaires to assess the work environment, patient safety culture, governance functioning and client experience. The decision to recognize Island EMS with Accredited with Commendation came after it surpassed the fundamental requirements of Accreditation Canada's accreditation program.

"I want to commend everyone at Island EMS for their ongoing commitment to improving the quality and safety of the services they provide to the people of Prince Edward Island," said Dr. Scott Cameron, Provincial Medical Director of Emergency Health Services for Health PEI. "Their innovative solutions to caring for our communities, such as through their Rapid Response Unit and palliative care program, has made them a key partner in our One Island Health System, helping us deliver the right care, by the right partner, in the right place."
About Accreditation Canada
Accreditation Canada is an independent, not-for-profit organization that accredits health care and social services organizations in Canada and around the world. Its comprehensive accreditation programs foster ongoing quality improvement through evidence-based standards and a rigorous external peer review. Accredited by the International Society for Quality in Health Care (ISQua), Accreditation Canada has been helping organizations improve health care quality and patient safety for more than 50 years.